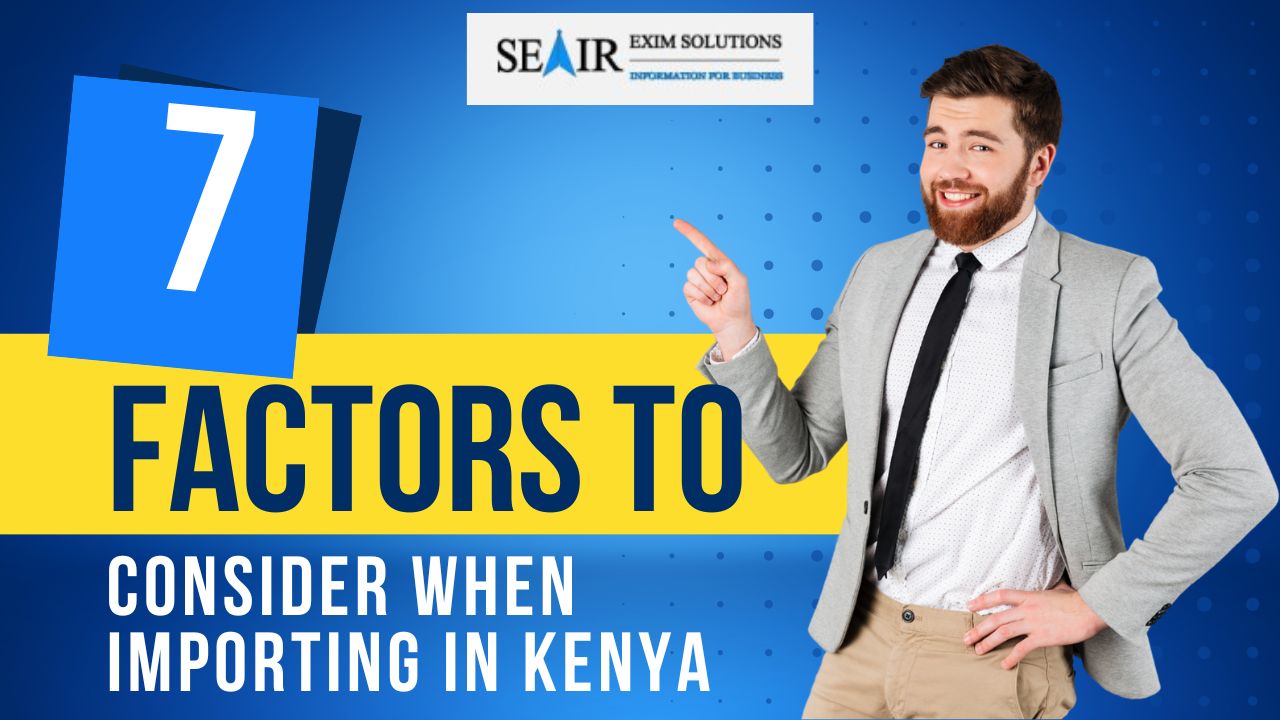 As we know, the import business has gained popularity in Kenya in recent years, due to the demand for imported goods or commodities. Setting up an import business isn't inordinately complicated, but it requires significant planning and resources. Kenya has a strict pre-shipment inspection needed in place to assure that products imported into Kenya meet certain standards. If you are thinking of getting into this business, you should take a look at the 7 points to consider when importing in Kenya.
Import in Kenya
A product or service that is imported into the nation comes from another nation. The word "import" is really derived from the word "port," meaning that commodities brought into the nation from other countries do so via the port. Typically, imported items are ones that are not domestically produced. For instance, a nation that lacks a resource like oil may decide to import oil from another nation to suit its own demands. Additionally, a nation may decide to import goods that are made domestically but are not available in quantities sufficient to suit domestic demands.
Exports in Kenya
Shipping locally produced goods to other nations for sale or trade is referred to as export. Since goods are transported to foreign countries via ports, the word "export" is also derived from the word "port". Typically, surplus or highly demanded items that are produced in excess are exported. The majority of nations export products in which they have a comparative advantage, such as Kenya's comparative advantage in the production of coffee.
When considering what is meant by Import Export, it is crucial to examine the reasons why countries choose to import goods.
Significance of Import
Most nations decide to import products that their native industries cannot manufacture as effectively or inexpensively as those in the exporting nations. Additionally, nations decide to import necessities that are unavailable domestically. Be aware that any foreign commodity that a nation's citizens import—including travel souvenirs, household goods, and currency—is deemed to be an import.
When people are concerned about importing in the context of trade, they are talking about getting goods or services from another nation. The importing company or person will then offer these goods or services to customers, expanding their range of possible purchases. There are various more benefits to importing that should also be taken into account. Here are a few factors.
· Introducing new products to the market
· Reducing costs
· Becoming a leader in the industry
· Providing high quality products
· Increasing Profits
7 Factors to Consider when Importing in Kenya
1 Inspection prior to shipment
To make sure that goods imported into Kenya comply to specified standards, Kenya has strict pre-shipment inspection requirements. There must be a Pre-Shipment Verification of Conformity for every product (PVoC). Additionally, in order for sensitive goods to enter the nation, an Import Standards Mark (ISM) must be applied.
2 Fees for Import Declaration
Another important factor to think about while importing into Kenya is the import declaration fee. This fee typically amounts to 2.2% of the imports' CIF value, with a minimum of 5000 ksh. Based on the item's worth and the relevant duty rate, the customs office determines the amount of duty that is due.
3 Clearing Agents
Every importer is required to hire a clearing agent to manage the import paperwork through Customs. Only agents are permitted to clear products on behalf of importers, hence this agent must be registered and have access to the Simba 2005 system.
Make sure you always have the following while working with your favourite clearing agent:
· Forms for Import Declaration (IDF)
· Customs statement (Entry)
· For regulated products, a Certificate of Conformity (CoC) from the PVoC agency and, if applicable, an Import Standards Mark (ISM)
· Valid Commercial invoices from the exporting company that are valid pro forma invoices
4 Insurance
Insurance is one more important factor to take into account while importing into Kenya. All goods acquired by importers based in Kenya should be insured by insurance companies authorised to conduct business there.
5 Documents Required
The following documentation is required for all imports into Kenya:
· Airway Bill (Bill of Lading)
· Export Manifest
· Customs Bond
· Certificate of Origin
· Import Declaration Form
· Pre-Shipment Inspection
· Certificate of Conformity (CoC)
· Import Standards Mark (ISM)
6 Schedules for Import Certification
Schedules for import certification are based on how frequently exporters do business with Kenya. These are the categories:
Schedule-1 Occasional Exporters
These exporters are exempt from registering their goods requirements. However, their products go through testing and inspection processes before receiving a CoC, which is then given.
Schedule-2 Frequent Exporters
All of the exports from this group of companies must be registered. Additionally, they must be prepared to allow a CoC to be given following a random analysis and inspection of their products.
Schedule-3 Regular Exporters and High Volume Manufacturers:
To trade the products, these exporters and manufacturers must get a licence, submit to a yearly licence review, allow random product inspections, and obtain a CoC.
So these are the seven factors outlined above while importing into Kenya, as it is very important to understand the basic requirements for start a new import business. For this you may require Kenya Import data for gather information related to Import Export data, HS Code, shipment details, Kenya Trade data. Our highly qualified professionals are always ready to provide valuable information to boom your business.