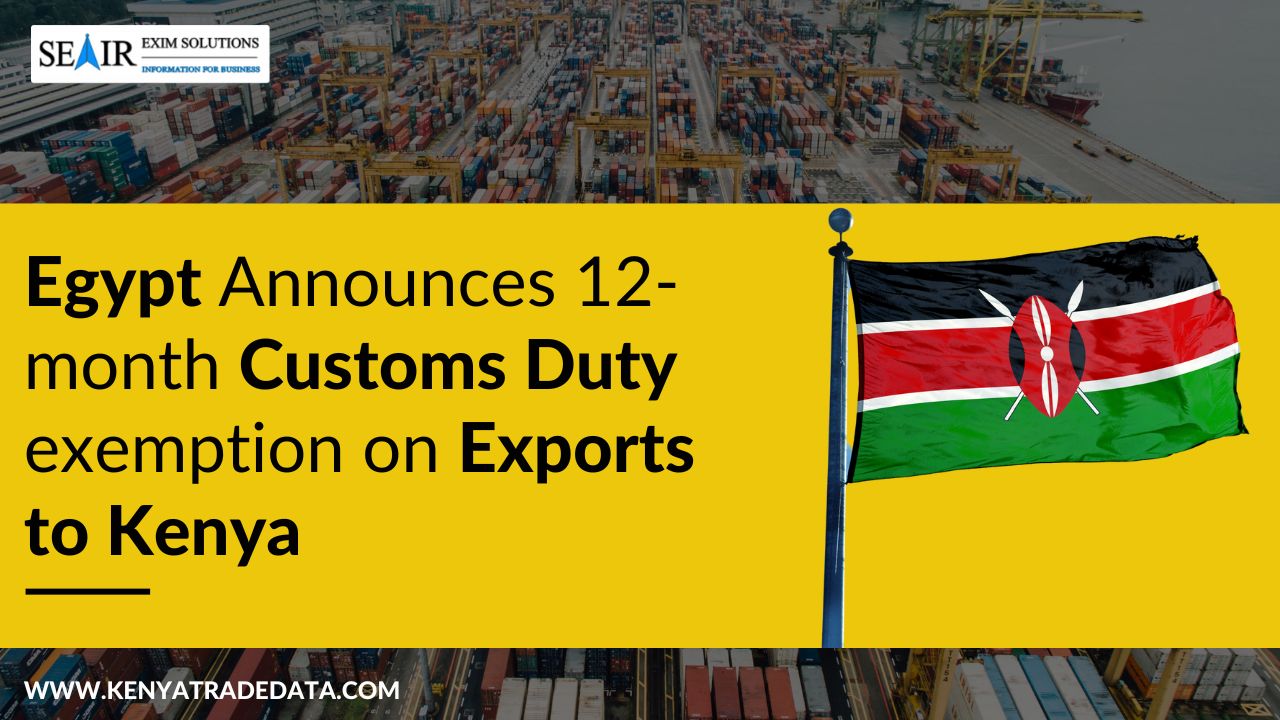 Nevine Gamea, Egypt's Minister of Trade and Industry, has said that a one-year term beginning in July will see a continuation of the customs tax exemption on Egyptian shipments to Kenya.
Gamea claimed that this exemption is a component of the complete customs exemption provided to COMESA member states by the East African Community (EAC), which also includes Kenya, Rwanda, Burundi, and Uganda.
The minister announced that the Kenya Revenue Authority has sent an official letter to the Egyptian Commercial Service (ECS) in Nairobi, the country's capital (KRA). According to the letter, Kenya has acquired the EAC's consent to extend the one-year period of customs exemptions offered to COMESA member states.
Ahmed Maghawry, the head of ECS, stated that this process will increase Egyptian exports to the Kenyan market. This is especially true given that it is among the most significant East African and COMESA export markets for Egyptian commodities.
The action also conveys a message of assurance to Egyptian exporters who do business in Kenya. According to Kenya Trade Data, the entire quantity of Egyptian exports to the Kenyan market in 2020 was roughly $448.5 million, up 5.3% over the previous year.
Also, He mentioned that sugar; detergents, cement, iron and steel, machinery, equipment, and electrical appliances are among Egypt's top exports to Kenya.
Further, In order to extend the exemption of customs taxes on imports from Egypt and the Common Market for Eastern and Southern Africa (COMESA) for an additional year, Kenya received the consent of the Customs Union of the East African Community (EAC). Also know, Custom Duty India.
Among the top 28 exporters to Kenya in 2021, Egypt was ranked #1, capturing more than 70% of the Kenyan market relative to its rivals.
According to Kenya Import Data In 2021, commerce between Egypt and Kenya expanded by 4.7% to $666 million from $635.8 million in 2020, according to Yahya El-Wathik Bellah, head of the Egyptian Commercial Service (ECS).
Kenya First partner to Egypt in Africa's East
In December 2022, Ahmed Samir, the minister of trade and industry, praised the long-standing ties between Egypt and Kenya.
However, Samir stated that Kenya is Egypt's first partner in eastern Africa in a speech he read on behalf of Prime Minister Mostafa Madbouli at a ceremony held by the Kenyan embassy in Cairo to mark the 59th anniversary of the nation's independence.
In light of bilateral trade agreements and other regional and continental agreements, he continued, trade, economic, and investment relations are booming. Samir applauded the efforts made by the governments of Egypt and Kenya, as well as the business societies in the two nations, which he claimed helped to promote cooperative efforts at all levels.
In view of the two nations' membership in COMESA, he continued, Egypt hopes to take advantage of their potential for trade and investment. He also stated that the Egyptian government is dedicated to fostering economic and investment cooperation with all African nations.
Following the implementation of the African Continental Free Trade Area (AfCFTA), the minister expressed optimism for an increase in cooperative ventures between the corporate sectors of the two nations. Get Kenya Trade Data.
Further, the Kenyan ambassador in Cairo, for his part, emphasised his nation's desire to strengthen ties with Egypt and praised Cairo for providing political assistance to Nairobi both before and after Kenya's independence. According to him, the amount of trade between the two nations increased last year, reaching around $550 million.
How to find Kenya Trade Data?
Trade data is the most reliable source of information on a nation's import and export market sizes. The discovery of potential leads will be facilitated by Kenya's Trade Data and the organization's trading history. By being aware of the trade history beforehand, you may pursue the lead with the best chance of success. One can maintain track of the activity of their competitors by having monthly updates of import data.
Kenyatradedata.com, a leading market research firm and the finest Kenya Export Import Data Provider, can help you locate the best export import data. They specialise in providing data on Kenya's import and export trade. The import data that Kenya's customs service collects relates to the bills of entry that importers and buyers have completed. Kenya Trade Data includes details on importers, including Importer Name, Address, Phone, Email, HS codes, Product, Price, Quantity, and Country of Origin. Finding domestic importers and customers is made easier for overseas suppliers by these helpful details.