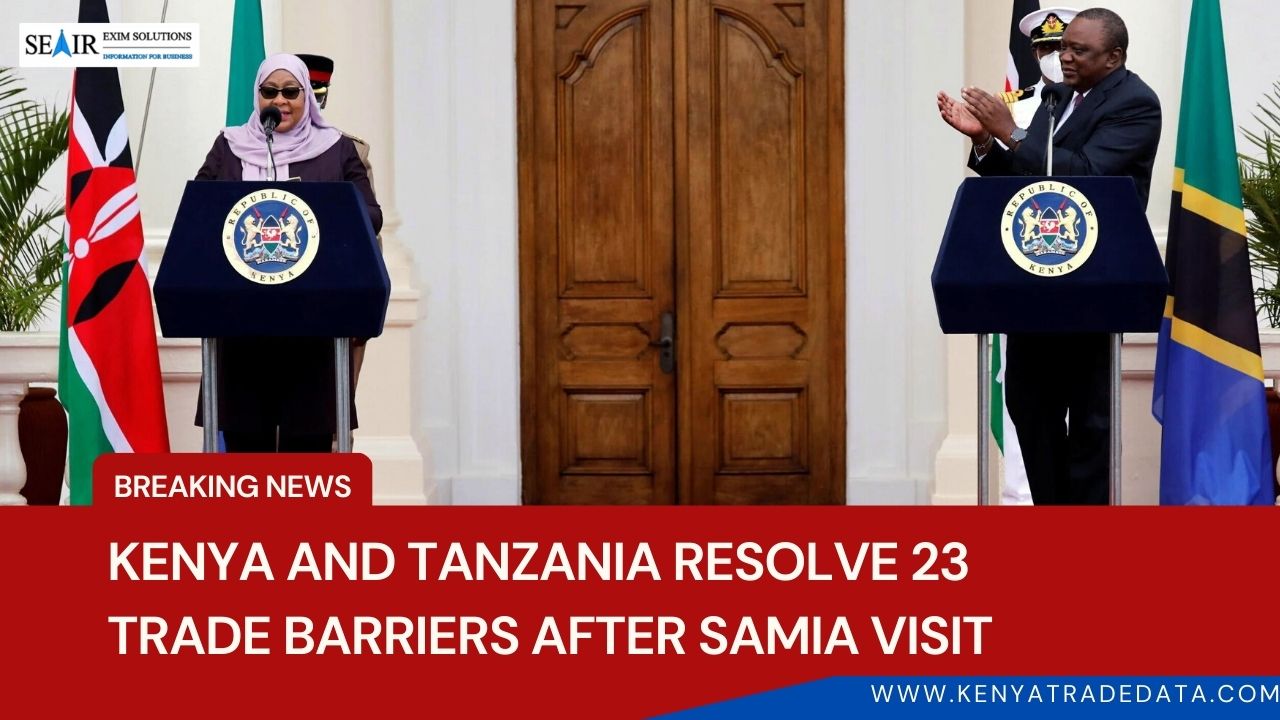 Following President Samia Suluhu Hassan's visit to Nairobi in May 2021, Kenya and Tanzania settled 23 burdensome legislation that have hampered trade between the two nations, according to a government notification. Tanzania's exports to Kenya overtook imports for the first time in the six months leading up to June 2021 as a result of the thawing of trade relations between the two nations after Magufuli's fall from power. In this blog, we will discuss the latest notification on Kenya and Tanzania trade barriers.
Kenya and Tanzania Break down 23 Trade Barriers
By removing 23 onerous trade barriers that had impeded trade between the two countries, Kenya and Tanzania have gone above and beyond in their objective to improve their commercial ties.
This action reflects the present administrative ideology in both countries. The presidents of both countries—President Samia Suluhu Hassan of Tanzania and President Willam Ruto of Kenya—have talked passionately and actively about the importance of fostering trade relations with other African countries.
In order to streamline logistics for moving goods to their partner states, they both started plans to construct railways that cross their borders and into other East African regions. Therefore, it is not surprising that both countries have decided to remove their trade restrictions.
An excerpt from the Report for General Economic and Commercial Affairs Sector, a sector working group for the budget preparation, states that the United Republic of Tanzania and Kenya's cooperation in removing NTBs to open up markets was the reason for the overachievement. Obtain Kenya Trade Data
The commerce between Kenya and Tanzania has now reached Sh100 billion for the first time, following President Hassan's visit to Kenya in May 2021.
However, the Joint Trade Committee, a bilateral body made up of representatives from Kenya and Tanzania, was established one month after President Hassan's visit to Kenya. Charged with identifying and resolving trade issues between the two countries, the body immediately identified 60 tariff and non-tariff barriers.
These included the abolition of inspection fees on processed goods with a standardised mark, such as wheat flour, the customs clearance of soft drinks produced in their territories, and the elimination of roaming calling fees after Tanzania joined the Common Network Area.
Tanzania declined to Sh16.6 billion compared to Sh19.1 billion in 2021
Tanzania softens its borders while Kenya's GDP soars. The value of imports into Tanzania in the third quarter of 2022 decreased marginally to Sh16.6 billion from Sh19.1 billion in the period between July and September 2021 by Kenya Import Data. But it represents a significant increase from Sh8.8 billion in the same period in 2020.
According to Kenya Import Export Data from the Kenya Revenue Authority issued by the CBK, the value of products ordered from Tanzania, including grains, timber, and edible plants, placed an increase of Sh18.29 billion during the review period.
In contrast to exports, which surged at five-year high, imports from Tanzania increased by 70.06 percent, creating an unusual trade deficit of Sh1.02 billion.
When Dar es Salaam burned 6,400 live chicks from Kenya in November 2017 on the basis that they were brought in illegally, the trade dispute between Kenya and Tanzania came to a head. Later, Kenya would also outlaw the import of maize from Tanzania and Uganda, claiming that the imported grain was contaminated with the carcinogen aflatoxin.
Recently, Kenya went to Tanzania to fill the gap as a result of a shortage of maize, a primary food crop, and rising retail costs for maize flour. Also get Kenya Export Data
To prevent the export of its goods and jobs, Tanzania enacted harsher regulations, forcing Kenyan grain traders who wanted to buy maize from Tanzania to register their businesses in Dar es Salaam.
Need Kenya and Tanzania Trade Data?
The most accurate source of information on an economy's import and export market sizes is Trade data. The organization's trading history and Kenya's Trade Data will make it easier to find possible leads. You can chase the lead with the best probability of success by being informed of the trade history beforehand. Having monthly updates of import data allows one to keep tabs on the activities of their rivals.
Kenyatradedata.com, a best market research firm and the finest Kenya and Tanzania Export Import Data Provider, can help you locate and analyse the best export import data. They specialise in furnishing data on Kenya's import and export trade. Also, the import data that Kenya's customs service collects relates to the bills of entry that importers and buyers have completed. Kenya Trade Data covers details on importers, including Importer Name, Address, Phone, Email, HS codes, Product, Price, Quantity, and Country of Origin. If you have any related concerns, our professionals are always available to give you the best.