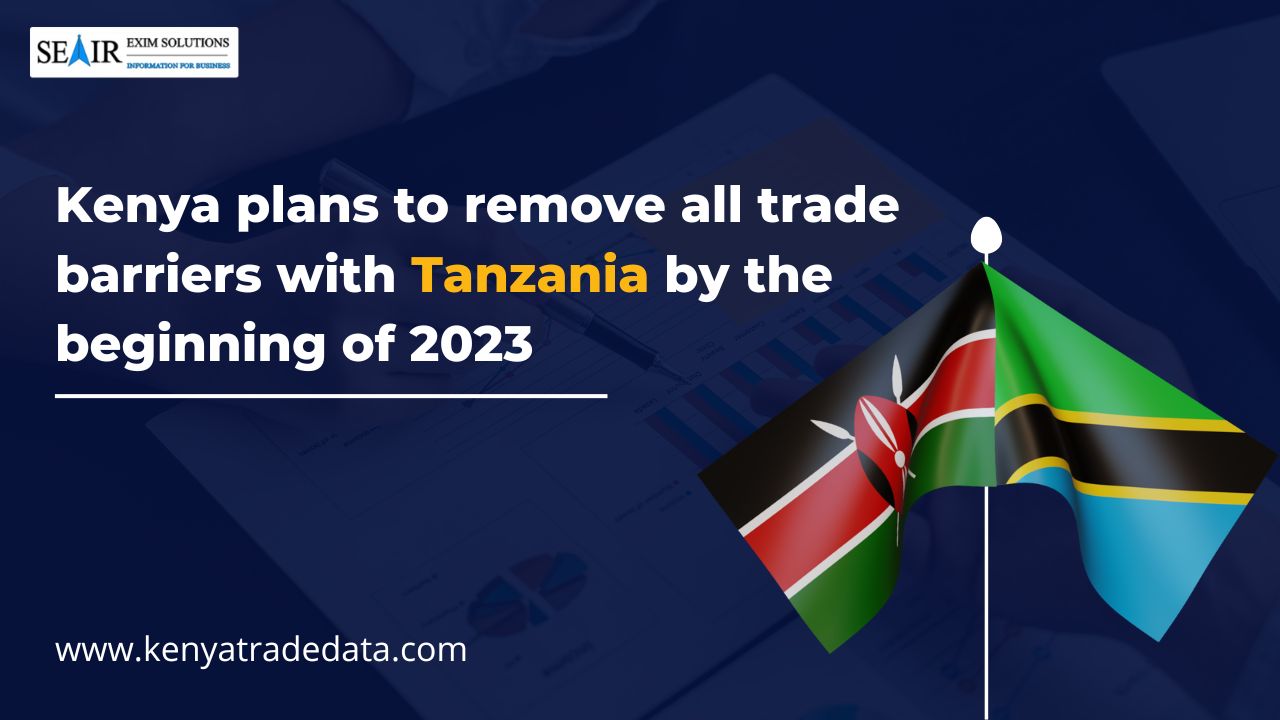 By lowering trade restrictions, Kenya and Tanzania want to promote free commerce. Following President William Ruto's trip to Tanzania, this choice was made. Both nations have had a long-standing commercial relationship. By January of the following year, Kenya had pledged to make trading with Tanzania easier. In this blog, we will discuss Kenya plans to remove all trade barriers with Tanzania by the beginning of 2023.
Kenya Plans to remove all Trade Barriers with Tanzania
Kenya and Tanzania aim to encourage free trade, thus they are easing trade regulations. This decision was made after President William Ruto's visit to Tanzania. There has been a long-standing trade tie between the two countries. The following January, Kenya promised to facilitate trade with Tanzania by the beginning of 2023.
The choice was taken to boost the volume of locally produced items traded between the two countries and to promote trade between them.
According to Mr. Isaac Njenga, Kenya's High Commissioner to Tanzania, both governments have already started making measures to eliminate all unpaid trade tariffs between them by the end of January.
Kenya Exports to Tanzania Reached to Ksh 45.6 billion
During the Jamhuri Day festivities in Dar es Salaam, he said that the President of Kenya's visit had already sparked the removal of over 50 non-tariff barriers, boosting bilateral commerce between Tanzania and Kenya.
The high commissioner remarked, "Our dedication to eliminating Non-Tariff Barriers (NTBs) has considerably contributed to the growth in commerce between our two countries.
According to Mr. Njenga, Kenyan exports to Tanzania rose from Ksh 31.4 billion in 2020 to Ksh 45.6 billion in 2021.
Additionally, according to Kenya Import Data, the total trade increased from Ksh58.6 billion in 2020 to Ksh95.7 billion in 2021, with imports from Tanzania nearly doubling from Ksh27.2 billion in 2020 to Ksh50.1 billion in 2021.
Our regional organisations act as the building blocks for a deeper integration of our nations into continental and international businesses. We are determined to keep working together as a consequence, he stated.
The high commissioner claims that encouraging residents from both economies to engage in free commerce and explore inside Africa for answers rather than having to import them from a foreign market is one of the main goals of reducing trade barriers. Also know Kenya Trades.
Dr. Damas Ndumbaro, the Tanzanian Minister for Constitutional and Legal Affairs, who was present at the occasion, remarked that the two nations have a strong relationship because they are so similar in terms of their tribes, cultures, and other aspects. In addition to direct trade, both nations have worked together to develop security, agriculture, energy, tourism, transportation, infrastructure, and other fields.
Kenya Duty-Free Trade Deal with Three Countries
In accordance with the most recent trade agreement, the cabinet said that talks on the Free Trade Area are still ongoing with the US, South Korea, and the United Arab Emirates because Kenya wants to expand access to its exports outside of the conventional and regional markets. The cabinet recently reported that talks with these countries have started, with the goal of enhancing Kenyan exports' duty-free and quota-free access to these lucrative markets. Read More
So Kenya and Tanzania aim to encourage free trade, thus they are easing trade regulations. Additionally, the Kenya Trade Data includes the precise and accurate product description and is highly useful for analysing the global distribution of products. If you require any assistance regarding Kenya Import Data or Kenya Imports, kenyatradedata professionals can render you with useful and relevant Trade Data. They may guarantee the delivery of precise and accurate Kenya Trade Data reports worldwide.