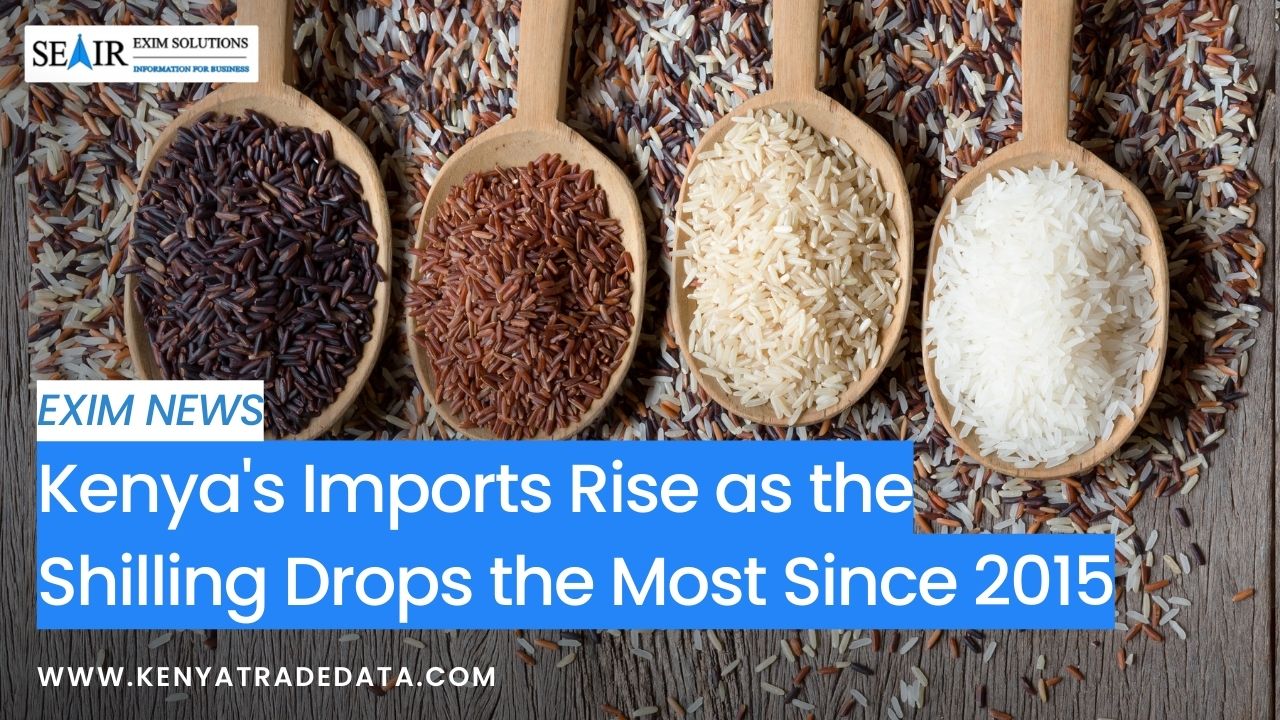 In 2022, as a result of rising import costs and inflation brought on by Russia's conflict in Ukraine, Kenya's currency had its biggest one-year decline and its benchmark stock index turned into Africa's poorest performance.
In Nairobi, the exchange rate dropped to 123.4 to the dollar, bringing the annual loss to about 9%. In the nine months ending on September 30th, Kenya's imports increased 16% to $16.3 billion, while its trade deficit increased to $10.7 billion. The shilling, like most emerging market currencies, has suffered from the dollar's gain this year as investors sought safe havens in the wake of the war in Russia.
Kenya's Imports Rise since 2015
According to a statement to customers from Nairobi-based AIB-AXYS Africa, the shilling will continue to be "under pressure due to the increasing dollar demand from energy importers on the basis of the current high global oil prices, and reduced dollar inflows from important export-earning industries."
Further, the data gathered by Bloomberg, the twenty worst performing currencies worldwide this year are all from countries in Africa.
Investors have sold off African assets as a result of the twin whammy of the Russian invasion, which has caused a shortage of everything from petrol to grain. Kenya's main stock index experienced an almost 24% fall, the largest since 2011, making it the region's poorest performer in terms of local currency. Get Kenya Import Data.
Also, Safaricom Plc, which makes up more than half of the 63-member Nairobi Securities Exchange Ltd. All Share Index's market capitalization fell 36%.
According to Nairobi-based NCBA Investment Bank Ltd., the largest corporation by value in East Africa suffered from a global decline in investor confidence, driven by concerns about inclining interest rates and accentuated by poor macroeconomic conditions.
But a $447 million loan from the IMF helped increase Kenya's foreign exchange reserves to their highest level since August and may lessen pressure on the currency of the country.
According to Kenya Trade Data, reserves increased to $7.5 billion for the week ended December 22 from $7.08 billion on December 15. The inventory is enough to cover imports for 4.2 months.
Further, Kenya imports a variety of goods, including industrial machinery, wheat, used clothing, automobiles, vegetable oils, and petroleum products, the costs of which are growing as the shilling depreciates against the dollar.
As a result of rising imports, the country's trade imbalance increased by 23.1% in the ten months leading up to October 2022, reaching Sh1.37 trillion by Kenya Import Export Data
Manufacturers and importers have done this by passing on the increased shipping costs to customers, which have increased inflationary pressure in an economy where households are already struggling to afford pricey essentials like fuel, soap, cooking oil, and food.
In turn, the nation's inflation rate exceeded the Central Bank of Kenya's (CBK) upper bound objective of 7.5 percent since June, reaching 9.48 percent in November.
However, as exporters of agricultural goods, including tea, coffee, and horticulture, are frequently paid in dollars, it is anticipated that the weakening of the kwacha will increase their profits.

How to get Kenya Import Data?
You can find the greatest export import data by using Kenyatradedata.com, a top market research company and the best Kenya Export Import Data Provider. They are experts in providing information on Kenya's import and export activities. The bills of entry that importers and buyers have completed are the basis for the import data that Kenya's customs department gathers. Kenya Trade Data contains information about imports, such as the importer's name, address, phone number, email address, HS codes, product, price, quantity, and country of origin. These helpful details make it simpler for global providers to locate domestic importers and clients. If you need any more assistance with Kenya Shipment Data or Kenya Customs Data, our crew is always there to provide the best services to assist you in expanding your business in the global market.