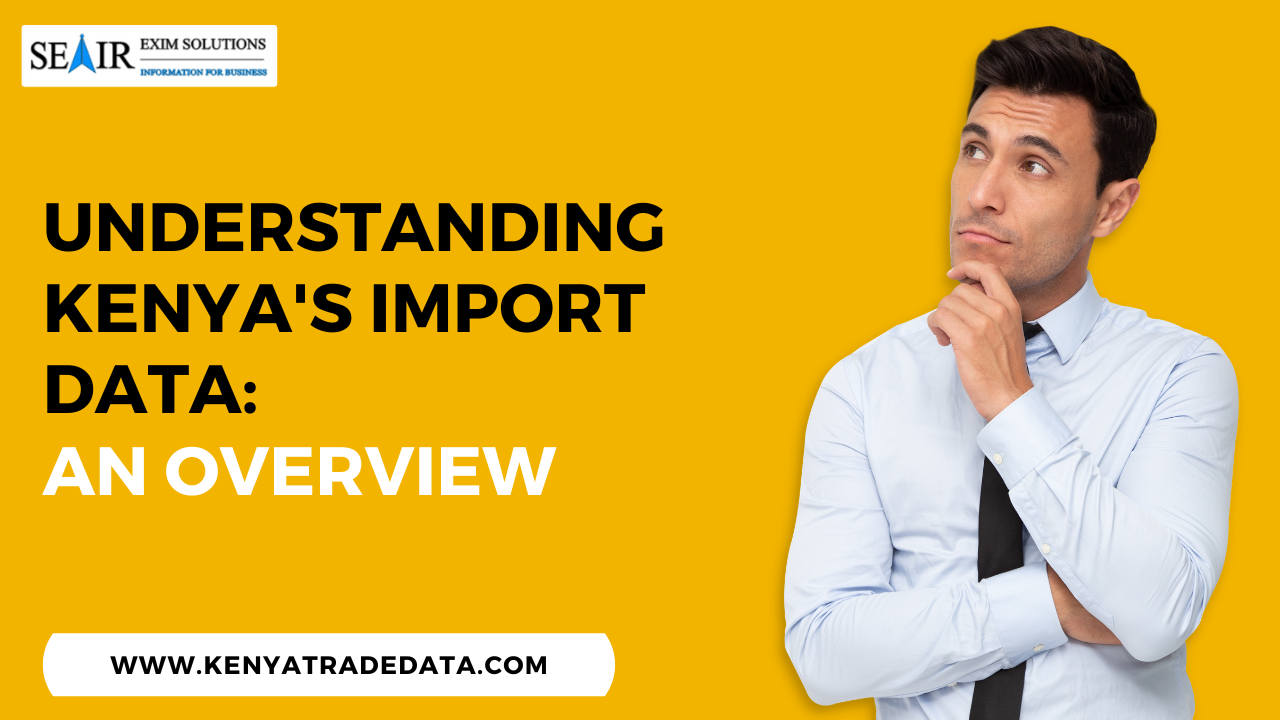 Kenya is located in East Africa and has a rapidly growing economy. Its import data reflects the country's significant dependence on imports for meeting its domestic needs. This blog aims to provide an overview of Kenya's import data, including its current trade statistics, top imports, import partners, import regions, and sources to obtain trade data.
What is Kenya Import Data?
Kenya Import Data refers to the collection of information on the goods and services imported by Kenya from other countries. This data provides insights into the country's trade dynamics, including the types of goods and services imported from the countries they come from and the value of imports.
The kind of Kenya export-import data is also of utmost significance for individuals who are involved in the business of international trade business. To get accurate, reliable, and actual data, it is obligatory to get the Kenya trade data from the best Export Import Data Provider.
Current Trade Statistics of Kenya
According to the United Nations COMTRADE database on international commerce, Kenya's imports from India totalled US$2.11 billion in 2021. Kenya Imports from India - data, charts, and statistics - were last updated in March of 2023.
However, Kenya's total imports were worth $16.4 billion in 2020. The country's imports decreased by 3.3% compared to the previous year due to the global economic slowdown caused by the COVID-19 pandemic. However, the country's import volumes have shown a steady increase over the years. Also, if you need the most recent and updated Kenya Imports Data, Connect with KenyaTradeData to gain the best market analysis report.
The Importance of Kenyan Trade Data
The Export Import Data contains a number of crucial points. Some of them are as follows:
It helps to increase revenues while minimizing risks.
It supplies you with actual records of shipments that occurred in any given country.
Kenya Import Export Data provides a market picture of the country's imports.
Kenya Import Data delivers accurate, up-to-date, and error-free export import data.
It also aids in the analysis of market competition with the enhanced Kenya Customs Data.
Kenya's Top 10 Imports
According to import data of Kenya, Kenya's top 10 imports include machinery, electronics, vehicles, mineral fuels, plastics, iron, steel, pharmaceutical products, fertilizers, and organic chemicals. These imports are critical to the country's development and growth, as they are used in various industries, including manufacturing, construction, and agriculture.

Kenya's Top 5 Import Partners
According to Kenya Trade Data, Kenya's top 5 import partners are China, India, United Arab Emirates, Japan, and South Africa. These countries account for more than 50% of the total value of imports to Kenya. China is the largest importer of goods to Kenya, accounting for almost 25% of the total imports.
Kenya's Top 5 Import Regions
Kenya's top 5 import regions are Asia, Europe, the Middle East, Africa, and America. According to Kenya Import Export Data, Asia is the largest import region, accounting for approximately 60% of Kenya's total imports. Europe and the Middle East are also significant import regions, accounting for 15% and 10% of Kenya's total imports, respectively.

How can I get Kenya Trade Data?
There are several sources to obtain Kenya trade data. One of the best sources is KenyaTradeData, which publishes weekly, monthly, and yearly trade data on its website. It is a foremost market research company and the best Kenya Export Import Data Provider specializing in information on Kenya's import and export trade. Kenya Import Export Data includes information on importers such as Importer Name, Address, Phone, Email, HS codes, Product, Price, Quantity, and Country of Origin. These significant details aid international suppliers in locating domestic importers and customers. So if you require any type of guidance related to Kenya Trade Data, our business professionals are always ready to provide the best export-import data to grow your business worldwide. Connect today for a free demo!